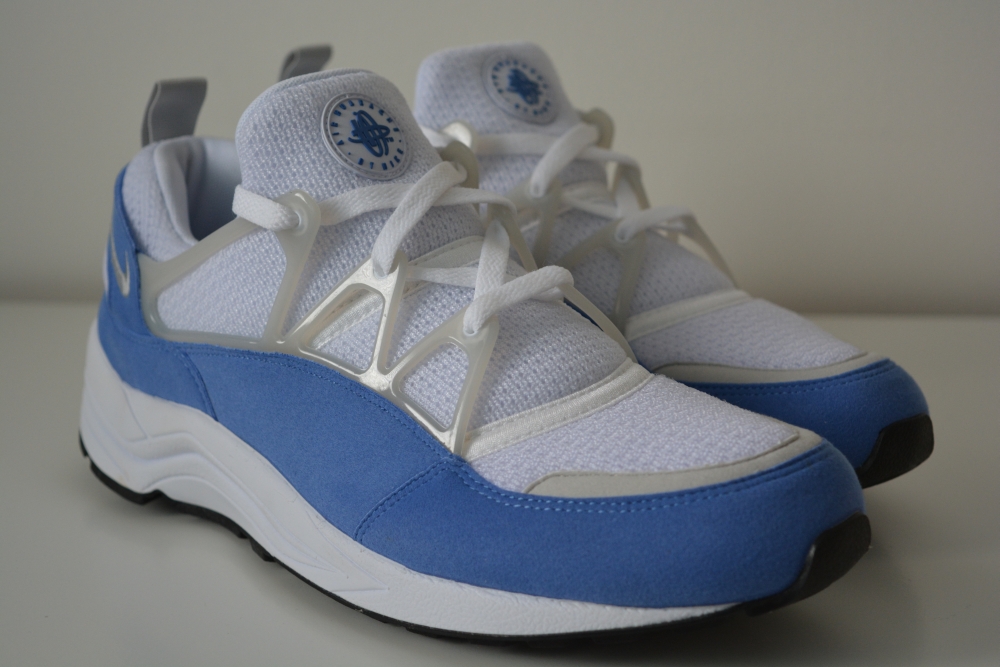 Konečně opět tu! Omlouvám se všem za nízkou aktivitu v poslední době, ale okolnosti, které u mne nastaly za poslední měsíc vedly k tomu, že na jakékoliv nové příspěvky jak na blogu, tak na Instagramu nebyl čas. Přišlo spoustu radikálních změn,  ale o tom v příštím článku, který bude i tak trochu netradiční, jelikož se ponese v automobilovém duchu neboli klasických amerik současnosti.
Dnes jsem si připravil jednu lahůdku, která mi přibyla aktuálně v botníku. Dlouho jsem pokukoval po Nike Air Huarache Light. Nic vám to neříká? … Jedná se o velmi ojedinělý kousek na českých ulicích, odvozený od klasických Huarache, které běžne koupíte dnes už v každém krámě se sneakers. Nějaké realise se dostaly i k nám do ČR, ale vesměs to byly allwhite cw. Tyhle "odlehčené" Huarache si proste buď okamžitě zamilujete, nebo je budete nenávidět. Design je velmi svérázný. Co do pohodlnosti, je to běžný průměr a víceméně klasický standard, na který jsme od Nike zvyklí. Skvěle drží na noze, akorát se do nich hůř souká. Každopádně, pokud si je taky pořídíte, rozhodně neuděláte krok vedle a zaručeně budete vybočovat z davu!
---
Finally, here again! I apologize to everyone for the low activity lately, but the circumstances that occurred for me in the last month led to the fact that any new posts to blog and Instagram was not time. We lost a lot of radical changes, but more on that in the next article, which will be a bit unusual, since the bear in the automotive spirit – The classic Americas of today.
Today I prepared a delicacy that I actually added in the closet. For a long time I was glancing at the Nike Air Huarache Light. You dont know? … This is a very unique piece on Czech streets, derived from classic Huarache, who normally buy today in any shop with sneakers. Some realists were also given to us in the Czech Republic, but mostly it was allwhite cw. These Huarache simply either immediately fall in love or you hate. The design is very distinctive. In convenience, it's the industry average and more or less classic standard, as we are accustomed to Nike. Famously holds the leg just to have worse sophomores. Anyway, if you take it too, definitely you make a step aside and will certainly stand out from the crowd!