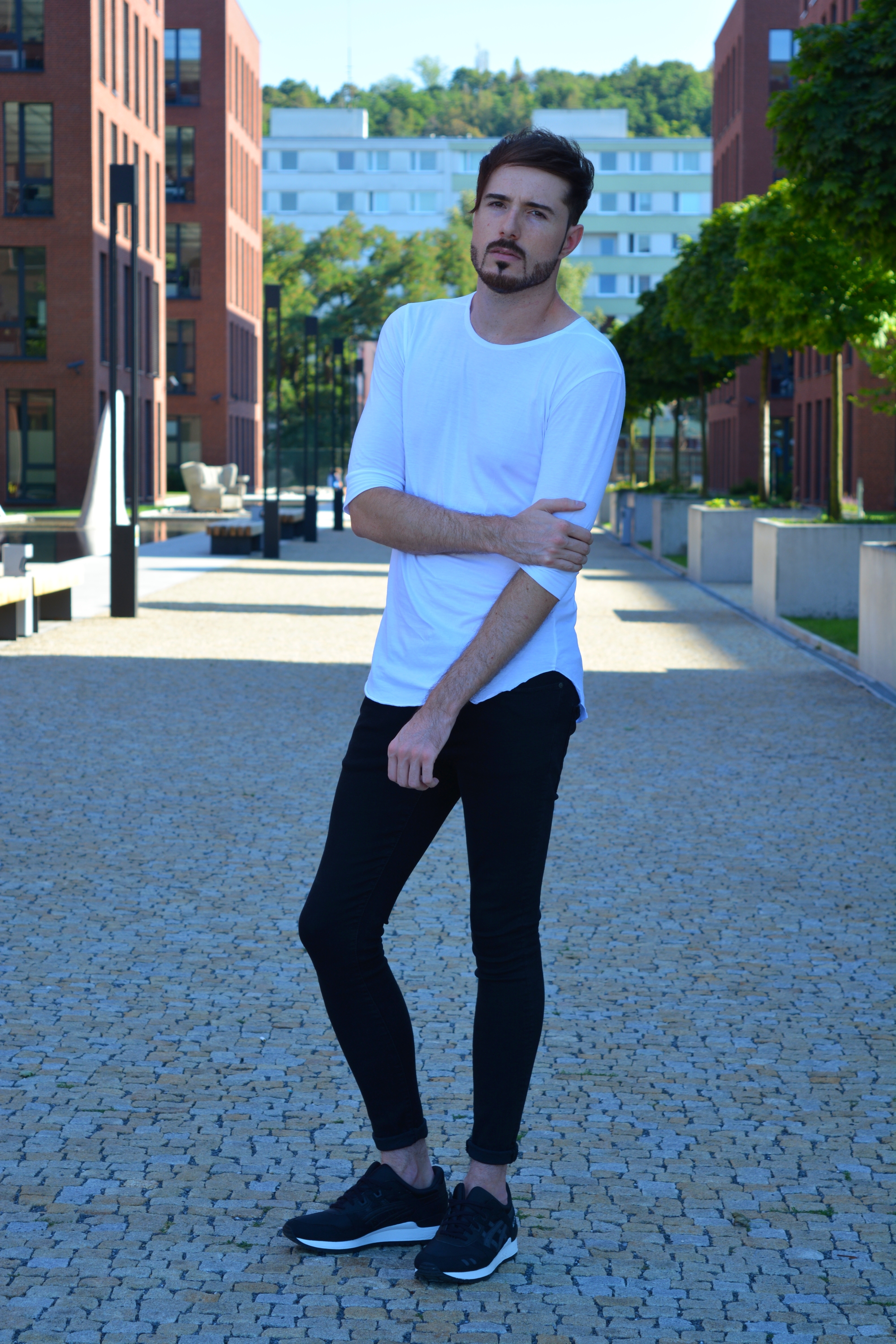 Jak jste jistě zaznamenali na mém Instagramu, po delší době opět přícházím s Black/White outfitem. Poslední týden byl hodně nabitý. Vytipoval jsem nové fantastické lokality na focení a konečně byl i čas i zajít k mému kadeřníkovi Mírovi Kozákovi, který se postaral o nový haircut.
Nejvýraznější prvkem dnešního jednoduchého outfitu jsou trochu paradoxně tyto fantastické černo/bíle kicks Asics Gel Lyte III, které jsou k mání výhradně v pražském Footshopu, stejně jako množství dalších exkluzivních kousků od Nike, Jordan, Adidas, Puma, Reebok nebo i značek jako Sixth June atd. Všem doporučuji návštěvu! Bílé polodlouhé triko se 3/4 rukávy je z aktuální kolekce pánské Zary a elastické černé skinny jeans z Bershky.
---
As you surely noticed on my Instagram, after a long time again I came with  Black / White outfit. Last week was very busy. I have identified a new fantastic location for a photo shoot, and finally I was time to go to my hairdresser Míra Kozak, who took care of new haircut.
The most striking feature of today's simple outfit are paradoxically these fantastic black / white kicks Asics Gel Lyte III, which are exclusively avalaible in Prague Footshop, as well as a number of other exclusive pieces from Nike, Jordan, Adidas, Puma, Reebok, or even brands such Sixth June etc. I recommend to all visiting! White half long T-shirt with 3/4 sleevs from the actual collection of men's Zara. Elastic black skinny jeans are from Bershka.
T-Shirt: Zara
Jeans: Bershka
Sneakers: Asics Gel Lyte III from Footshop here
Haircut: Míra Kozák/Papilio